What's A  Star Guardian Xayah Cosplay?
COSPLAY is an abbreviation of Costume Play, a Japanese word for cosplay. It refers to the use of costumes, accessories, props, and makeup to play the role of anime works, games, and ancient characters. Star Guardian Xayah is one of the heroes in the League of Legends series, and her beautiful appearance and gorgeous skin, as well as her good-looking costumes, are loved by female cosplayers, and she has also appeared in cosplays at various major comic conventions, allowing photographers who like to take pictures of cosplayers to enjoy their work. Photographers vying for photo ops. If you're wearing my Star Guardian Xayah cosplay costume you're sure to be a sight to behold at Comic-Con, with photographers scrambling to take photos of you.
Star Guardian Xayah Cosplay At Rehney
League of Legends Cosplay Name:Star Guardian Xayah
League of Legends Cosplay Size: S,XXL,XXXL
League of Legends Cosplay Material:Gree special fabric, stretch PU leather
League of Legends Cosplay Full Set: Tops, skirts, hand guards, socks, shoe covers, props and accessories
Commodity Purchase Separately: Wig
LOL STAR GUARDIAN XAYAH COSPLAY COSTUME
Side feather cloak with iron wire lining, built-in steel needle, can make the cloak more stable on the skirt, more upright, and the iron wire on the front can be freely shaped;
The leather nurse is adopted, and the stitching half-open zipper is used for easy wearing and looks very textured;
Leather-covered EVA props have a better texture than spray-painted props. They are lighter in weight and will not drag the clothes, and keep the shape of the clothes more;
The socks are made of high-elastic milk silk, which has high elasticity, is comfortable to wear, fits and does not sag, the details are restored, and the accessories are complete;
Stitching patches on the chest, the star shape of the mold is beautiful, the colors are bright, and the feathers are dyed, which is closer to the Xayah character;
The skirt is designed with side opening zipper, which is velcro fitted with the feather cloak on the side, which is convenient to put on and take off; the skirt is made of Grete fabric with bright powder on it, which reflects high light and is more attractive. The curve of the dress is perfect, and the gold edge is added Staggered thickness, more prominent figure;
There is a small elastic band design on the back of the skirt waist, which increases the wearability. The arm patch design is cumbersome to make, but the texture is better, and its color saturation is better than digital printing.
Cosplay Show Off Costumes
LOL Star Guardian Xayah Cosplay Costume Full Set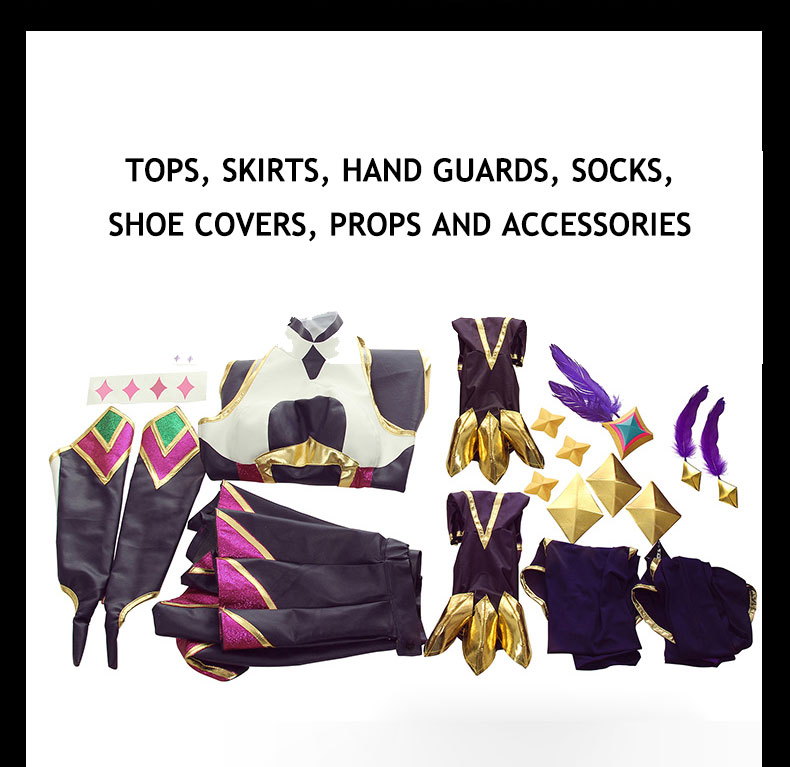 Express Delivery
| Location | *Estimated Shipping Time |
| --- | --- |
| United States | 7-20 Business days |
| Canada, Europe | 7-20 Business days |
| Australia, New Zealand | 10-30 Business days |
| Central & South America | 15-30 Business days |
| Asia | 10-20 Business days |
| Africa | 15-45 Business days |
*This doesn't include our 2-5 day processing time.